The United States of America (USA) is the world's #1 country for immigration, both in terms of having the most foreign-born residents (approximately 45 million) and because it attracts the largest number of immigrants (over one million per year through various U.S. visa programs).
Since you are visiting the Inmigración Legal USA website, you may be thinking about living in United States and are searching for accurate information.
This webpage will inform you about living in the USA, including basic facts about the country's geography, population, economy, employment, quality of life, healthcare, education, and major cities.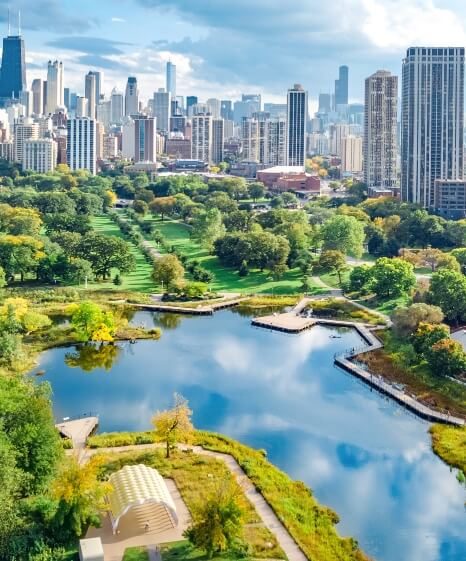 The United States is the world's 4th biggest country (after Russia, Canada and China), extending from the Pacific Ocean in the west to the Atlantic Ocean in the east, and stretching from Mexico and the Gulf of Mexico in the south to Canada in the north.
The USA and Canada share the longest international border in the world, running about 5,525 miles (8,891 kilometers) from the U.S. state of Alaska and Canada's Yukon Territory in the west all the way to the U.S. state of Maine and Canadian province of New Brunswick to the east.
There is great diversity in regards to the terrain, plants and wildlife in the United States, a vast country which covers a large portion of North America.
Thousands of miles of beautiful beaches line the Atlantic and Pacific coasts, as well as the Gulf of Mexico and The Great Lakes, so you and your family have plenty of options to relax in the sunshine, play in the surf and enjoy the easy-going beach lifestyle, including in such states as Hawaii, California, Oregon, Washington, Texas, Florida, North Carolina and New York, among others.
In the western United States, the majestic, snow-capped Rocky Mountains ("The Rockies") stretch northward from New Mexico into Colorado, Wyoming, Montana and across the international border into Canada; while the smaller, yet scenic, Appalachian Mountains ("The Appalachians") also extend northward from Mississippi, Alabama and Georgia to Tennessee, South Carolina, North Carolina, Virginia, West Virginia, Ohio, Pennsylvania, New York and across the border into Canada.
Another major geographic feature of the United States, The Great Plains, is a predominantly flat expanse of land where many large farms and ranches are located in the center of the country from Texas and New Mexico in the south to Oklahoma, Kansas, Missouri, Colorado, Wyoming, Nebraska, Iowa, South Dakota, North Dakota, Montana, Minnesota and crossing the international border into Canada in the north.
The Great Lakes are located in the northeastern United States (in the "Great Lakes Region"), straddling the border between the US and Canada, in the states of Minnesota, Wisconsin, Illinois, Indiana, Michigan, Ohio, Pennsylvania, and New York, and they include Lake Superior to the west, Lake Michigan, Lake Huron, Lake Erie and Lake Ontario in the east.
There are also tropical rain forests found in Hawaii and the state of Washington, as well as deserts in parts of southern California, Arizona and Utah. The United States has many rivers, the longest of which include the Missouri River, Mississippi River, Yukon River, Rio Grande River, Arkansas River, Colorado River, Red River, Columbia River, and Snake River.
If you enjoy nature or want to take a vacation while you are living in the USA, there are many state parks, national forests and around 63 National Parks across the United States, including Yellowstone National Park in Wyoming, Idaho and Montana (the first national park in the world); Yosemite National Park in California; Glacier National Park in Montana; Grand Canyon National Park in Arizona; Grand Teton National Park in Wyoming; Rocky Mountain National Park in Colorado; and Great Smoky Mountain National Park in Tennessee and North Carolina.
The United States is divided into 50 states and the District of Columbia (i.e., Washington, DC), the largest of which is Alaska, followed by Texas, California, Montana, New Mexico, Arizona, Nevada, Colorado, Oregon and Wyoming; while the smallest state is Rhode Island, followed by Delaware, Connecticut, New Jersey, New Hampshire, Vermont, Massachusetts, Hawaii, Maryland and West Virginia.
Each state is divided for administrative purposes into counties, except for Louisiana which is divided into parishes.
There are approximately 332,554,090 people living in the USA (March 2022), making it the third most-populous country in the world after China (1.4 billion) and India (1.38 billion).
The U.S. states with the largest populations include California (39,238,836), Texas (29,527,941), Florida (21,781,128), New York (19,835,913), Pennsylvania (12,964,056), Illinois (12,671,469), Ohio (11,780,017), Georgia (10,799,566), North Carolina (10,551,162) and Michigan (10,050,811).
Cities in the United States with the most residents include New York City, New York (8,622,357); Los Angeles, California (4,085,014); Chicago, Illinois (2,670,406); Houston, Texas (2,378,146); Phoenix, Arizona (1,743,469); Philadelphia, Pennsylvania (1,590,402); San Antonio, Texas (1,579,504); San Diego, California (1,469,490); Dallas, Texas (1,400,337); and San Jose, California (1,036,242).
Approximately 14% of the people living in the USA or about 45 million residents are foreign-born, with the top countries of origin including Mexico, Guatemala, India, China and Hong Kong SAR, South Korea, Germany, Vietnam, The Philippines, United Kingdom, Canada, Honduras, Jamaica, Columbia and El Salvador.
More than 50% of all the immigrants living in the USA are naturalized American citizens (in general, a U.S. Permanent Resident Green Card holder can apply to become an American citizen after living in the USA for five years and satisfying other requirements).
Immigrants can move wherever they want to in the United States, but the metropolitan areas with the most foreign-born residents include: New York City (New York); Los Angeles (California); Miami (Florida); Chicago (Illinois); San Francisco (California); Houston (Texas); Dallas-Fort Worth (Texas); Washington (District of Columbia); Atlanta (Georgia); Riverside (California); Boston (Massachusetts); San Diego (California); San Jose (California); Seattle (Washington); Phoenix (Arizona); Las Vegas (Nevada); Orlando (Florida); Tampa (Florida); and Sacramento (California).
Although the United States does not have an official language, there are 239 million people living in the USA who speak English; 41 million who speak Spanish; 3.5 million Chinese speakers; 1.7 million who speak Tagalog; 1.5 million who speak Vietnamese; 1.2 million Arabic speakers; 1.2 million who speak French; 1.1 million Korean speakers; 940,000 who speak Russian; 920,000 German speakers; 870,000 who speak Haitian Creole; 860,000 Hindi speakers; 790,000 who speak Portuguese; 580,000 Italian speakers; 520,000 who speak Polish; 510,000 Yiddish speakers; 460,000 who speak Japanese; 420,000 Persian speakers; 410,000 who speak Gujarati; 370,000 Telugu speakers; and 320,000 who speak Bengali – among many other languages spoken by people living in America.
With a Gross Domestic Product (GDP) of more than $21 trillion annually, the United States has the largest economy in the world, dwarfing the economies of China ($14.7 trillion), Japan ($5 trillion), Germany ($3.8 trillion), the United Kingdom ($2.7 trillion), India ($2.6 trillion), Italy ($1.8 trillion), Canada ($1.6 trillion) and South Korea ($1.6 trillion).
During 2021, the U.S. economy produced a record 6.6 million jobs in America – an average of over 500,000 new jobs per month.
Employers are hiring for U.S. job openings in such business sectors as construction, information technology, finance, automotive, healthcare, education, media, engineering, pharmaceuticals, transportation, electronics, retail and more.
As of March 2022, the national unemployment rate in the United States was a very low 3.6 percent, reflecting a continuing worker shortage that is causing many employers to offer higher salaries in an attempt to attract new employees.
If you would like to work in the USA, this is the good time to apply for U.S. employment, either as a Lawful Permanent Resident (LPR) of the United States (i.e., a Green Card holder) or as a temporary foreign worker (for example, with an H-1B work visa or other US visa).
People living in America tend to earn good incomes, as shown by the examples of median yearly salaries below (2021):
Accountant = $71,550
Aerospace Engineer = $118,610
Airline Pilot/Flight Engineer = $160,970
Biomedical Engineer = $92,620
Brickmason = $58,420
Buyer/Purchasing Agent = $72,370
CAD Draftsman = $57,960
Chemical Engineer = $108,540
Civil Engineer = $87,060
Computer Programmer = $86,550
Computer Systems Analyst = $90,920
Construction Manager = $97,180
Crane Operator = $64,010
Data Scientist = $94,280
Database Administrator = $93,750
Dentist = $155,600
Dental Hygienist = $76,220
Dietitian & Nutritionist = $61,270
Drywall Installer = $47,460
Electrical Engineer = $103,390
Elementary School Teacher = $60,940
Financial Manager = $129,890
Flight Attendant = $59,050
Glazier = $46,080
High School Principal = $98,490
High School Teacher = $62,870
Human Resources Manager = $121,220
Human Resources Specialist = $61,210
Industrial Production Manager = $108,790
Information Security Analyst = $99,730
Locomotive/Train Engineer = $70,660
Marketing Manager = $136,850
Market Research Analyst = $63,790
Mechanical Engineer = $88,430
Occupational Therapist = $84,950
Petroleum Engineer = $137,720
Physician = $206,500
Plant Operator = $59,600
Plumber = $56,330
Production Line Supervisor = $66,800
Psychologist = $101,790
Registered Nurse = $73,300
Sales Manager = $132,290
Software Developer = $107,510
Special Education Teacher = $61,420
University Professor = $83,810
Warehouse Manager = $105,100
Web Developer = $73,760
If you would like to live and work in the USA long-term, the U.S. Diversity Visa Immigrant Program is the easiest way receive a Permanent Resident Green Card.
To start the process, click here!
One of the reasons that people want to immigrate to the United States is because there is generally a high standard of living in the USA.
For example, America is a land of opportunities for immigrants; there are millions of good-paying U.S. jobs to choose from; immigrants can start their own business if they want to (and many do); receiving a post-secondary education in the United States can make it easier for an immigrant or their children to find U.S. employment that pays well; people living in America enjoy many freedoms and equality which are protected by law; there is "social mobility" which permits almost anyone who is willing to work hard to enjoy a better quality of life (i.e., the "American Dream"); there are endless entertainment options; and America offers a variety of goods and services at affordable prices that are not easily available in many countries.
The Organization for Economic Cooperation and Development (OECD) Better Life Index reports: "The United States performs very well in many measures of well-being relative to most other countries in the Better Life Index. The United States ranks at the top in housing and ranks above the average in income and wealth, health status, jobs and earnings, education and skills, personal security, subjective well-being, environmental quality, social connections, and civic engagement."
In sum, immigration to the United States will give you and your family the opportunity to enjoy a high quality of life and a better future.
U.S. Permanent Resident Green Card holders have access to high-quality healthcare and cutting-edge treatments that no other country can match, which is why thousands of people travel to the USA for medical treatment every year.
Although some countries provide universal healthcare to their population, the United States does not have such a system. Instead, most people who live in the USA receive their healthcare by signing up for private healthcare coverage.
In some cases, an employer in the United States will pay the monthly fee (i.e., "premium") so their employers can receive private healthcare coverage or the employer will pay half of the monthly healthcare insurance fee and the employee will pay the other half of the fee which is deducted from his or her paycheck.
There are also many people living in the United States who pay the entire fee/premium for private health insurance on their own and this can be rather expensive, especially for a large family.
Senior citizens, however, receive free healthcare coverage through Medicare and families who earn below a certain income level may qualify to receive Medicaid and their children may be able to participate in the Children's Health Insurance Program (CHIPS).
It is important to know that the United States has various kinds of healthcare coverage plans, such as the Preferred Provider Organization (PPO), Health Maintenance Organization (HMO), Point of Service (POS), and Exclusive Provider Organization (EPO).
If you sign up for a PPO, you will pay less for visiting a hospital or doctor within the PPO network, compared with if you go to a hospital or doctor outside of the PPO network.
With an HMO, you will normally be required to visit a doctor that is a member of the HMO network.
You can receive affordable healthcare coverage with a POS plan by going to a hospital or doctor that is a member of the POS network, plus your primary care doctor will have to give you a referral in order for you to see a specialist.
In order for your healthcare to be covered by an EPO, you must use a doctor, specialist or hospital that is an EPO network member.
When you sign up for healthcare insurance in the United States, you may have the option to choose a platinum, gold, silver or bronze plan. 
A platinum healthcare plan allows you to pay only 10% of the medical costs and then the health insurance company will cover the other 90% of the costs.
With a gold healthcare plan, you will pay 20% and the health insurance company will pay the remaining 80% of the medical costs.
If you choose a silver healthcare plan, you will be responsible to pay 30% of your medical costs and then the healthcare insurance company will take care of the other 70% of the costs.
The bronze healthcare plan lets you pay 40% of the medical costs, while the healthcare insurance company will pay the remaining 60% of the costs.
Please note that this is general information and subject to change.
If you would like to learn more about the different healthcare plans in the USA, visit the following U.S. government website: https://www.healthcare.gov/choose-a-plan/comparing-plans/
Children receive free public education in the United States, but parents can choose to pay tuition to send their child to a private school (for example, a school associated with a particular religion or a school that has special "enrichment" educational programs).
In general, a child is required to start school at five or six years of age (depending on the state where he or she lives) and must remain in school until reaching 17 or 18 years of age (depending on the state).
Many parents in the United States will enroll their children in pre-school, daycare or other programs so their children can get a head start with their education and the development of social skills, plus this may allow the parent(s) to work while their child is being cared for during the day.
The public schools in the USA are usually paid for through taxes and many schools that are in wealthier neighborhoods (with a higher tax base) will tend to have better schools with more resources and extracurricular activities available to students, so where you live in the USA can make a difference in the quality of the public education your children receive.
The Niche.com website has rankings of the best primary schools, middle schools, secondary schools, public schools, private schools, school districts, and religious schools that you may find helpful when considering which schools you want your children to attend in the United States (which may also affect where you decide to live in America).      
Adults living in the United States as legal residents have many options to receive a post-secondary education at thousands of four-year colleges and universities, local two-year community colleges and trade/vocational schools.
The United States has the most top 100 best universities in the world, according to the annual Times Higher Education World University Rankings; US News & World Report Best Global Universities Rankings; and Academic Ranking of World's Universities.
It should be noted that in additional to overall rankings, some colleges and universities have higher ratings for specific educational programs, such as their engineering program, law school, medical school, nursing program, etc.
A public four-year college or university receives funding from the state where it is located, so the cost of tuition that students pay is usually less expensive than at a private four-year college or university.
Private four-year colleges or universities are generally more expensive to attend than publicly-financed four-year colleges and universities, however, many offer scholarships to students who qualify.
Many students take advantage of the convenience and affordability of local two-year community colleges that are found in many cities and towns across the United States, where they can study for an Associate's Degree on campus while still living at home, plus they may have the option to transfer to a four-year college or university to complete the remaining requirements for a Bachelor's Degree.
Some people do not want to spend four years (and the expense) studying at a college or university and would rather work as a skilled tradesperson, so local trade schools and vocational schools allow them to receive training that might last 6-24 months, for example, so they can work in America as an automotive mechanic, laboratory technician, computer repairperson, chef, or similar occupation. 
As a U.S. Permanent Resident or American citizen, you can fill out the online Free Application for Federal Student Aid (FAFSA), so that the financial aid professionals at the post-secondary school where you will study can evaluate whether you are eligible to receive scholarships, grants, work-study on campus or low-interest student loans to help you pay for your education program and living expenses as a student.
New York City – Located in the southern tip of the state of New York and nicknamed "The Big Apple", New York City (NYC) is the most populous city in the United States, with 8.6 million residents living in the city's five boroughs or districts (Manhattan, Brooklyn, Queens, the Bronx, and Staten Island) and 18.8 million living in the metropolitan area. Over 3 million foreign-born residents live in New York City, which is more than any other city in the United States. New York City is known as the world's financial capital, home to Wall Street, and is a major hub for business, entertainment, fashion, news and trade. Famous New York City landmarks include: the Statue of Liberty; Brooklyn Bridge; Times Square; Broadway Theater District; Lincoln Center; World Trade Center; Empire State Building; United Nations Headquarters; St. Patrick's Cathedral; Chrysler Building; Madison Square Garden; Central Park; Rockefeller Center; Fifth Avenue; Wall Street; Grand Central Station; Carnegie Hall; New York Public Library; Radio City Music Hall; Yankee Stadium; and JFK International Airport.
Los Angeles – The second largest city in the USA is Los Angeles (nicknamed "L.A." and "The City of Angels"), which is located in southern California and has a population of 4 million people inside the city limits and around 12.5 million in the metropolitan area. Los Angeles is known for its year-round nice weather, sunny beaches, television and movie industry (i.e., "Hollywood"), recording industry, many multi-lane freeways, amusement parks, aerospace industry, technology sector, ethnic restaurants, and large number of backyard swimming pools. Like NYC, Los Angeles is a multicultural city with a substantial Spanish-speaking population, as well as foreign-born residents from around the world. Los Angeles is also a major hub for international trade and the news media. Some of the famous landmarks in and around Los Angeles include the city's downtown skyline (which appears in many movies); Olvera Street; the hilltop "Hollywood" sign; Hollywood Walk of Fame; Chinese Theater; Capitol Records Building; Griffith Park and the Griffith Park Observatory; Hollywood Bowl; Hollywood Hills; Sunset Strip; Rodeo Drive (in Beverly Hills); Santa Monica Pier; Malibu Beach; Dodger Stadium; Rose Bowl; Memorial Coliseum; Shrine Auditorium; The Forum; Los Angeles International Airport ("LAX"); and theme parks such as Universal Studios, Disneyland, Knott's Berry Farm, and Six Flags Magic Mountain.
Chicago – Situated along Lake Michigan in northeastern Illinois, Chicago is known as "The Windy City" and is the third most populous city in the United States, with 2.7 million residents living inside the city and 8.8 million people residing in the metropolitan area. Chicago has a thriving and diverse economy, which includes business, finance, technology, education, transportation, manufacturing and telecommunications. Since Chicago is located along the shore of Lake Michigan, it also has several beaches, such as Oak Street Beach, North Avenue Beach, and 12th Street Beach. Some of the most famous landmarks in the Chicago area are the downtown skyline including the Willis Tower (formerly called the Sears Tower); Field Museum; The Art Institute of Chicago; Navy Pier; Millennium Park and Cloud Gate; Museum of Science and Industry; Wrigley Field; The Magnificent Mile; The Loop; Garfield Park Observatory; Chicago Riverwalk; Buckingham Fountain; Holy Name Cathedral; and the University of Chicago.
Houston – The fourth largest city in the USA is Houston, which is located in southeastern Texas and has a population of 2.3 million residents inside the city and around 7 million living in the metropolitan area. Houston is home to NASA's Johnson Space Center and its other major industries include oil and gas, aerospace, chemicals and biomedical research. Approximately 44% of the people living in Houston are Hispanic, 32% are White, 22.6% are Black and 7.3% are Asian. Some of the points of interest in the Houston area include Space Center Houston, the Museum of Fine Arts, The Galleria, Houston Zoo, Cockrell Butterfly Center, and Water Wall. There are also several beaches near Houston, including Surfside Beach, Sylvan Beach Park, Rockport Beach, and East Beach in Galveston.
Philadelphia – America's sixth largest city, Philadelphia, is nicknamed the "City of Brotherly Love" and is where the U.S. Declaration of Independence was signed in 1776. Philadelphia has 1.6 million residents and 6.1 million people living in the metropolitan area. The major business sectors in Philadelphia include information technology, financial services, biotechnology, healthcare, food processing, manufacturing, transportation, tourism and trade. Points of interest in the Philadelphia area include Independence Hall; Liberty Bell Center; Philadelphia Museum of Art; Reading Terminal Market; Franklin Square; Longwood Gardens; Philadelphia Zoo; and the Franklin Institute.
Washington, DC – The national capital of the United States is located in the District of Columbia along the Potomac River and has a population of 689,545 people residing inside the city and 6.3 million living in the metropolitan area. Washington, DC, is home to The White House, U.S. Capitol, Supreme Court, and numerous monuments and museums, such as the Washington Monument, Lincoln Memorial, Jefferson Memorial, and Smithsonian Museum. Other nearby points of interest include the National Mall, World War II Memorial, Arlington National Cemetery, National Gallery of Art, Library of Congress, National Museum of Natural History, Washington National Cathedral, and the Kennedy Center. Approximately 25% of the people working in Washington, DC, are employed by the federal government, however, many people work for defense contractors, nonprofit organizations, educational institutions, lobbying groups, financial services, news media, and healthcare.
Miami – Found on the southeast tip of Florida, Miami has a population of about 442,241 residents, with 6.2 million people living in the metropolitan area. There is a strong Latin American (especially Cuban) influence in the Miami area and major Spanish-language media are located in the city. Miami is a hub for international business and financial services. Points of interest in Miami include the Bayside Marketplace, Art Deco Historic District, Vizcaya Museum and Gardens, Port of Miami, South Beach, Bayfront Park, Zoo Miami, and Key Biscayne and Crandon Park.
Atlanta – Located in northern Georgia, Atlanta has 498,715 residents, however, there are 6 million people living in the metropolitan area. Atlanta has the world's busiest airport and is a major transportation hub in the United States. With the 10th largest economy of any U.S. city, the key business sectors in Atlanta include transportation, logistics, information technology, news media, healthcare, aerospace, film and television, and biomedical research. Some of the points of interest in Atlanta include the Georgia Aquarium; Atlanta Botanical Garden; Piedmont Park; World of Coca Cola; Atlanta Zoo; CNN Center; National Center for Civil and Human Rights; High Museum of Art; College Football Hall of Fame; Jimmy Carter Presidential Library and Museum; Centennial Olympic Park; The King Center; and the Atlanta History Center.
Other major cities in the United States include: Phoenix (Arizona); San Antonio (Texas); San Diego (California); Dallas (Texas); San Jose (California); Austin (Texas); Jacksonville (Florida); Fort Worth (Texas); Columbus (Ohio); Indianapolis (Indiana); Charlotte (North Carolina); San Francisco (California); Seattle (Washington); Denver (Colorado); Nashville (Tennessee); Oklahoma City (Oklahoma); El Paso (Texas); Boston (Massachusetts); Portland (Oregon); and Las Vegas (Nevada); among many others.
If you would like to live in the USA and want to start the process, click here!
If you would like to live in the USA and want to start the process